-Joe Fornear
A celebrity's life is certainly not more important – but their life lessons are much more accessible to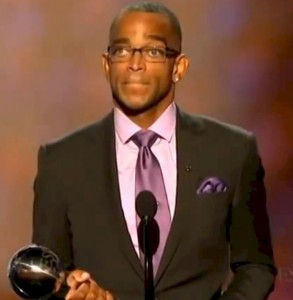 us all. Stuart Scott, an anchor on ESPN, was a man's man who delivered sport's highlights like none other. For the last eight years, he has also battled appendiceal cancer – until January 4, 2015 when ESPN announced he had passed away at 49. In his mind, Stuart did not "lose his battle to cancer." He beat it by the way he lived. As he said, "Fighting is winning," and even if one's fight ends, his perspective here was also very inspiring:
"When you die that does not mean you lose to cancer; you beat cancer by how you live, why you live and in the manner in which you live."
Yet in his acceptance speech for the 2013 Jimmy V Foundation Award for Perseverance, he sobered the crowd by revealing his source of perseverance. It was not, as they say, "the triumph of the human spirit." Instead, he pushed the spotlight onto unsung heroes – his sister, whom he called just to cry; his friends who came just to listen; his bosses who asked to drop off food. He knew the battle was greater than him alone, so he embraced his limitations and gladly leaned on others:
"So fight like hell, and when you get too tired to fight, then lay down and rest and let someone else fight for you."
Still, the battle proved greater than his best efforts and the overwhelming human support which celebrities often enjoy.
"It recently came back a third time. To be honest, I'm scared. I've always been afraid of cancer, but this time feels different. My confidence is shaken. I'm a little more vulnerable, a little more aware of my mortality, a little more uncertain about my future…" (Men's Health interview – 3-25-13).
Can you relate to Stuart? I can. Sometimes in life we encounter trials that are clearly greater than us, like my battle with Stage IV metastatic melanoma. This is why that well-intentioned phrase, "You're going to beat this," falls so flat for me. As if we could simply will our way out of a disease – believe me, I tried!
So now what – where do we turn when our coping skills and support prove unstable?
He only is my rock and my salvation, My stronghold; I shall not be shaken. – Psalm 62:6
The LORD is good, a stronghold in the day of trouble, and He knows those who take refuge in Him. – Nahum 1:7
You may not be famous like Stuart Scott. You may not have tens of thousands followers rooting for you on Twitter. Yet rest assured, when you turn to THE Stronghold – you will be truly "known." He is The Great "Someone Else" who will fight for you. Lean on Him – because He is there for you, with you, and best of all… in you!
Lord, help all of us sense Your overwhelmingly good Presence in the midst of our trials.
Find out how Joe got through his Stage IV cancer journey. His book, My Stronghold, is part of our free gift basket to cancer patients.