-Joe Fornear

I hear it in your voices. I read it in your emails and notes. I see it in your eyes. Your cancer battle is a beat down. Mine was too. If it's not the cancer wreaking havoc, it's the treatments. You might be wondering, "Where are You, God?" I have wondered.
As we've mentioned over and over in our blogs, and in our books, if we're feeling forsaken in the midst of pain and grief, we're in very good company. Even Jesus felt forsaken, but you know what, He was the only one Who ever was truly forsaken. The rest of the Father's children have just felt forsaken. Jesus literally was forsaken as our sin fell on Him and He was punished in our place. This so we would never be forsaken. He says He never leaves us, right?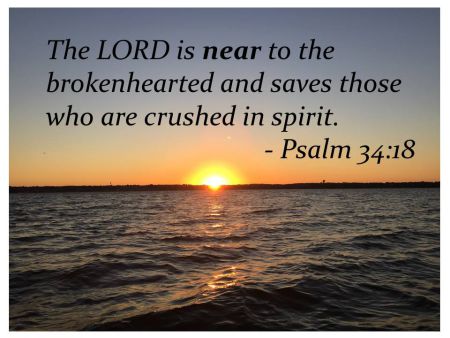 When Jesus started His ministry on earth, He gave us His "mission statement." He succinctly told us what He wanted to accomplish among us and in us. His first priority – no surprise here – was to preach the gospel, to deliver His good news (more on that good news here).
His 2nd priority? To bind up the broken-hearted. This is what He does. It's Who He is. It's why He came! His mission statement and promises:
The Spirit of the Lord GOD is upon me, because the LORD has anointed me to bring good news to the afflicted; He has sent me to bind up the brokenhearted, to proclaim liberty to captives and freedom to prisoners… – Isaiah 61:1
He heals the brokenhearted and binds up their wounds. – Psalms 147:3
The LORD is near to the brokenhearted and saves those who are crushed in spirit. – Psalm 34:18
So, "Where is God while my heart breaks?" The answer is simple – He's not far away – He is near! So don't drift away from Him in disillusionment and numbness. Draw near to Him, He has drawn near to you. We can believe it because He promised, so don't believe your emotions or lies in your head. This, my friends, is where He is while our hearts break. Meet Him at a location near you.