As a 501 (c) 3 non-profit, Stronghold Ministry relies on donations to help us support hurting people who are fighting cancer. Your gifts enable us to fulfill Jesus' desire to visit the sick.
We provide free inspirational books from experienced Stage IV melanoma cancer survivor, Joe Fornear and his wife, Terri, other small gifts, and most importantly, personal encouragement (contents of our free gift basket here). We are confident the Lord will bless you for your help and kindness!
Check out Bob Martin's testimony (click "play" on the video above) about how Stronghold Ministry helped him during his battle with Stage IV metastatic melanoma.
Now you can make tax deductible donations in several different ways:
E-check or Recurring Debits
Set up a one time, or a monthly donation, directly from your checking account.Click on the "Give Now" button.
Credit Card Donations
One time or recurring payments—click on the "Give Now" button.
Gift Basket Donation – Now you can do something to help someone fighting cancer! Provide much-needed spiritual help with a "gift basket" from Stronghold Ministry. Click here for more info.
In Honor/Memoriam
If you'd like to make a donation in honor or in memoriam of someone, simply make the donation and then provide the person's name. After you receive your confirmation donation email just send us the name and address of the person you wish to receive an acknowledgment of your donation.
Employer matching – Some companies will match your donations to 501c3 non-profit ministries like Stronghold Ministry. Our EIN# (IRS Employee Identification number) is 26-1656081.

United Way Campaign – Although Stronghold is not an officially listed United Way Agency, during employee campaigns you can "write in" an agency of choice for funding.  Our EIN# (IRS Employee Identification number) is 26-1656081. Please consider Stronghold!
Check or Money Order
Payable to: "Stronghold Ministry"
PO Box 38478 Dallas, TX 75238
Give online now!
The button below takes you to our secure payment gateway:
Paypal – Do you prefer using Paypal? Donate using your credit or debit card via Paypal—click on the button below: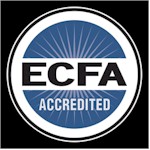 You can trust how we handle your donations as we are a member of the ECFA:
The Evangelical Council for Financial Accountability.
Stronghold Ministry is a 501c3 non-profit organization—donations are tax deductible.