Our Mission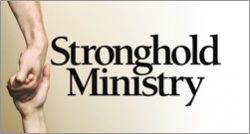 Stronghold Ministry provides spiritual support and comfort to cancer patients, caretakers and others in crisis.
Founded in 2008 by Joe and Terri Fornear, we reach out through personal contact, emails and phone. Please don't hesitate to refer someone who needs some spiritual help! Contact us here.
Our passion to support cancer patients is borne out of the battle that Joe had with Stage IV metastatic melanoma. Joe had been a pastor for 12 years when he was diagnosed in 2002. In May of 2003, doctors gave him just "days to live," but since August of 2003, he has been cancer free. The Lord provided Joe a miraculous healing.
Our Name
Along with the miracle, God provided supernatural strength to handle Joe & Terri's battle since it was far beyond their natural abilities. This explains our name, Stronghold, which comes from the many Old Testament references to the Lord who wants to be our strength, refuge and security in times of trouble. Our message is that when we are losing our grip, no matter what we are going through, the Lord is our Stronghold. Read more on Joe's story here.
Our Services
We provide the spiritual support that is so crucial when battling cancer. We suggest you start with requesting a free spiritual gift basket here. Also if you'd like us to be part of your prayer and support team, write us or call us and tell us your story. We provide counseling, host support groups, speak in home groups, Sunday school classes, youth groups. Joe can be a Sunday morning guest speaker at your church service. We host retreats and conferences as well. Find out more by checking out our free services.
Our Costs (No costs for cancer patients!)
We offer free gift baskets, prayer and support by phone and email to cancer patients! We also offer more extensive coaching based on suggested donations – contact us for more info. Stronghold Ministry truly relies on donations to operate. We incorporated in 2008 as a non-profit in the State of Texas and granted 501(c)3 status by the IRS in 2008, so donations are tax deductible. You can trust how we handle your donations! We are members in good standing with ECFA: The Evangelical Council for Financial Accountability, an agency which advises and provides accountability for non-profit organizations.