Stronghold Ministry is a cancer and support ministry.

A CANCER diagnosis can cause intense fear –
Stronghold Ministry helps you take the fear out of cancer!
Our founders, Joe and Terri Fornear, went through an intense Stage IV metastatic melanoma battle and Joe has been cancer free since 2003. The Lord was their Stronghold – holding on to them especially when they were too weak to hang on to Him. Hence, our name, "He only is my rock and my salvation, My Stronghold; I shall not be shaken." – Psalm 62:6
So now we want to be in your corner! Request our free spiritual gift basket! Sign up for In His Grip our encouraging newsletter too!
Request a free gift basket from Stronghold:
Amanda Martin on
My Stronghold
, Joe's book on his battle with cancer.
Joe Fornear's fierce battle with Stage IV cancer.
Journey with him.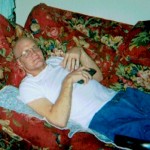 A meditation video from Psalm 139 on God's heart for the sufferer
to encourage you in your cancer battle or any crisis. You might be
surprised by the frequency and nature of His thoughts toward you!
Beating a Cancer Death Sentence – 700 Cub interview of Joe & Terri Fornear