Spiritual help for people fighting cancer.
Are you or a loved one fighting cancer? Have you just been diagnosed and looking for help?
Have you been battling for a long, long time and wanting to give up?
We want to be in your corner – so
contact us
and let us know how we can pray and encourage you.
Request a spiritual gift basket from Stronghold:

Amanda Martin on
My Stronghold
, Joe's book on his battle with cancer.
Joe Fornear's fierce battle with Stage IV cancer.
Journey with him.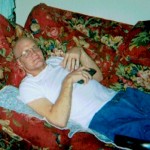 We made this meditation video to encourage you in your cancer battle or any crisis. This meditation is from Psalm 139, God's heart for the sufferer. You might be surprised by the frequency and nature of His thoughts toward you!